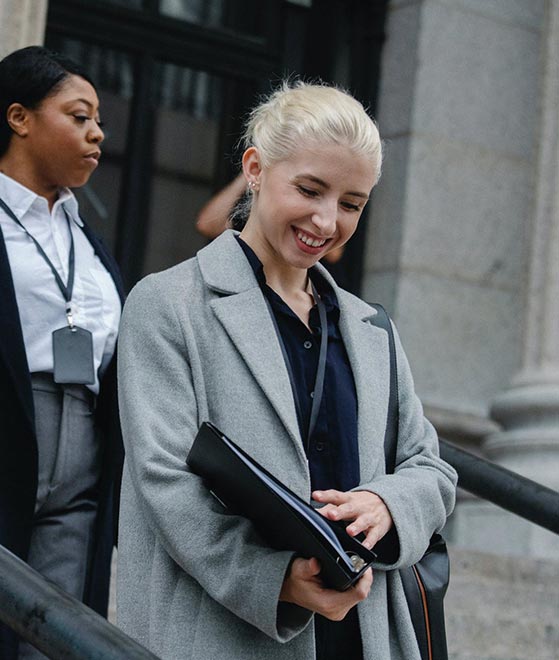 Our legal team prides itself on providing an approachable and pragmatic legal service to personal and business clients.
From helping you purchase your first home or start a new business, to assisting with your Will or winding up a company, our team of solicitors will be with you for every step of your journey.  
"Good morning Kendra, I wish to thank you for acting so brilliantly on my behalf; your calm, knowledgeable, compassionate approach reassured me and gave me confidence with the decisions I made (as a result of your counsel) during a difficult and challenging time.  I have appreciated the regular phone calls and timely communications from you, it has been a privilege to work with you and I am happy with the outcome you have worked to achieve for me.  As you are aware, what happened in my marriage was devastating for me but I am delighted to say that after two years of this process I am in control and looking forward to my future. What you worked to achieve for me was a key part of that:  the reason for the divorce was filed on my terms, we secured payment from the respondent for divorce costs, I retain my full pension and all assets and I receive a greater
GK
"I'll like to take this opportunity to say a massive thank you for all your help and support in my matter. Shame you were not available at the very beginning as you do have all the qualities required in customer care and support but more importantly the reassurance needed was outstanding."
DR
I contacted Jarmans Solicitors (Supriya) regarding an employment issue. They were professional, knowledgeable and efficient. I felt fully supported and valued throughout a very difficult period. I would throroughly recommend Jarmans Solicitors and would not hesitate to use them again if needed. The service was exceptional. Thank you.
Omar Behardien
Omar Behardien
''I've been dealing with Jarmans solicitors over a litigation issue to protect my financial interests within a property I bought with a so-called friend which I owned the highest percentage within the property. The solicitor called Jeanine has been very helpful and supportive and advised me I have a very strong case to stop my so-called friend from taking half my house away from me. I am very happy with the work which has been carried out so far. I would strongly recommend this company for litigation issues.''
NO
''We first contacted Christopher Kennett in April 2020, regarding a boundary dispute as you can appreciate these things if not dealt with correctly can quickly turn nasty. Christopher came to the site so that he completely understood the situation and was not relying on photographs, which can in some cases be misleading. The personal treatment we have received throughout the last year has been fantastic we rely completely on his advice, and put our complete trust in him to always advise us on the best way to proceed. Christopher and Sarah are always on the other end of a telephone to calm my sometimes hysterical calls. I would recommend Christopher Kennett and Sarah Church to anyone.''
CL
''Great representation in court following road traffic charges - Matt Davis and Jeanine Harry. Very many thanks for your services. Excellent result on the day.''
CJ
''Excellent solicitors, highly recommend them especially my contact Jeni. First class, professional, reliable, thank you.''
SB
''I would like to say what a brilliant job Barry and Jarmans solicitors in helping me sort out a statutory declaration. I was nervous about going to see a solicitor as I am lady with learning difficulties, he put me at ease and even though I made a mistake on what I had written nothing was too much trouble he even printed the forms that I needed and is still helping me through this process brilliant service.''
LD
''Would recommend this firm. We're quick to respond to my enquiry and were working on it straight away. Queenie was very efficient and lovely to deal with. Thank you for your services.''
TM
''Highly recommend Jay Sahota and Barry Bond @ Jarmans Solicitors. My children required independent legal advice and Jarmans Solicitors were very responsive, professional, and efficient. I can't recommend them enough. If you need a law firm, contact Jarmans Solicitors!''
RB
''I wanted to thank Steven Hayre for his handling of my divorce proceedings. Thoroughly professional throughout and so easy to deal with and compassionate, I would thoroughly recommend Steven and Jarmans for any type of matrimonial dealings.''
RL
''I spoke with Jay at Jarmans yesterday to get some legal advice. From the phone being answered to the help that was offered, the whole thing was fantastic! Super helpful, friendly, and efficient! Thoroughly recommended to one and all!''
KJ
''We used Jarmans Solicitors for conveyancing and received a professional and courteous service. Even with the volume of work their department was facing, Jeni and Merley kept us up to date and were prompt in dealing with any matters that arose. Thank you for all your help.''
TS
''We used Jarmans Solicitors for conveyancing and received a professional and courteous service. Even with the volume of work their department was facing, Jeni and Merley kept us up to date and were prompt in dealing with any matters that arose. Thank you for all your help.''
SS
"Jarmans recently did the conveyancing for a house we were buying at auction. I had short notice, so I gave them the auction pack with only two days to review before bidding. They read the pack and provided great feedback fast, leaving us plenty of time to prepare for the auction.We won the house, and Jarmans set to work; their legal team were fast and thorough, pushing to get everything through in time for the very tight auction deadlines (you must complete within 56 days).Jarmans managed to complete the purchase in the time frame and were friendly and helpful throughout the process. We're first-time buyers, so it took a bit of "hand holding", yet the final cost was bang on the initial estimate.Many thanks to Amber Locke, Nicky Cross, Sarah Reidy for their excellent work. I would recommend Jarmans highly."
E
"Have used this firm for many years, and they continue to give very good service. Special thanks to Amber who helped us complete on a house purchase in time and stress-free."
J
"Fantastic experience of dealing with Jeni regarding our house sale. Jeni worked out of hours, was always responsive and put the customer first. She took all the stress out of what is normally a stressful process. I would recommend Jarmans and Jeni without any hesitation at all."
MC
"I highly recommend Jay Sahota and his team. They are professional, courteous, and supportive. I've used them when I had problems with my tenants and have also recommended them to my friends who are very satisfied customers. Thank you, Jay!"
PL
"We received excellent service from Jeni at Jarmans Solicitors for our property conveyancing transaction. She went above and beyond our expectations to meet our timescale and we couldn't be happier. We would certainly use Jarmans again."
JG
"I would really recommend Jarmans Solicitors. The team were a delight to work with, especially Jeni who went the extra mile to get things done. If you are looking to buy or sell your property, I would really recommend them."
PJ
"I would highly recommend Jeanine Harry and cannot thank her enough for her support and guidance in resolving my issue in a timely manner. She was efficient, professional, reliable, she alleviated my concerns and I felt confident that she always had my best interest at heart. I would have no hesitation in recommending Jeanine or Jarmans for anyone in need of some legal representation."
MH
"I am very pleased to leave a review here in relation to complex conveyancing work undertaken by Amber Locke at Jarmans. I have used Jarmans for various commercial and personal legal matters over the years and this is the first time I have used their conveyancing team. The process was initially very well explained, and the options outlined in understandable detail. The work was undertaken extremely rapidly involving multiple documents to fit in with a very tight timeline. This work was undertaken in a very professional manner, and I am pleased to offer my recommendation, with thanks."
RP
"Very professional service from Nicky Cross acting as my conveyancing solicitor. Answered emails very quickly and kept me fully informed throughout. Highly recommend her friendly yet professional approach. Thank you."
FL
"Jarmans was recommended to me, and I was not disappointed. My solicitor was Christopher Kennett who was highly knowledgeable in my case, showed empathy and professionalism and gave me the reassurance I needed. He acted above and beyond my expectations and I would gladly recommend Jarmans Solicitors to anyone. Thank you Jarmans and Christopher."
TG
"I wanted to thank you for working so hard to ensure a successful sale of our property. Whilst the buyers were trying to push up the price unfairly, your advice and support was excellent, meaning that we saved a lot of money, and stopped their tactics mid-track. It is such a relief to have completion today, and to know that this stressful time has been made so much easier than it otherwise would have been. ‍ A huge well done to all the team. Thank you again."
SH
"Through your selfless act of kindness, you gave me the strength to stand my ground and see the final stages of my grievance through successfully. Thank you for your professional advice and taking the time and interest to help me. I very much appreciate the support and time you gave me. Thank you! Kind regards"
DW
"Jarmans like a challenge and my case was just that. They installed confidence in me from the very first meeting and had a new approach. Jarmans and their trusted team have turned the whole case around, their knowledge, confidence and attitude just to writing my very detailed statement has made all the difference. They instructed a fantastic barrister who was perfect for my case she was an excellent choice. I've never felt more confident going into the court room and so happy coming out. Have already recommended! Thank you again! "
B
"Very many thanks for your excellent work re my Divorce case. A first class performance from JARMANS Solicitors. I was very impressed with the service given, all the tactics applied and the good result achieved. Kind regards"
RB
"I was to the point of losing a sale on my property and within a week Jarmans has put me in the best position possible to now complete my sale. Not once did I feel like  needed to keep on and speed things up. They moved with such speed and efficiency that before I knew it my very difficult case was resolved. I can't thank them enough as they have lifted a weight off my shoulders and really turned my situation around."
JG
"l recently started using Jarmans to handle my divorce mainly because of their reputation.This is quite a stressful time and I was made to feel at ease with the solicitor who is handling my case. l was given clear and straightforward advice and information as to what I needed to do and where to proceed next. Any time I needed advice, had a question or booked an appointment it was dealt with speedily, on the same day in most cases. l would recommend Jarmans to anyone needing legal advice and cannot fault their professional approach to matters in hand."
BJ
Be part of our success with the NEW Management Team, with the perfect work life balance as a Sub-Contractor, at Jarmans Solicitors:

Jarmans Solicitors is looking for Fee Earners who want to build their careers while maintaining the freedom of being self-employed.
You will enjoy many of the benefits of working for Jarmans Solicitors like, FREE full office help, from experienced paralegals and secretaries, but without committing to a full-time position.

As a Sub-contractor, you set your own goals and your own working hours. You can work longer to increase your billings, or opt for a shorter day.
You won't be tied up by management meetings, so you can make every working hour pay.

Please contact us for further details on Contact us at 01795 472 291